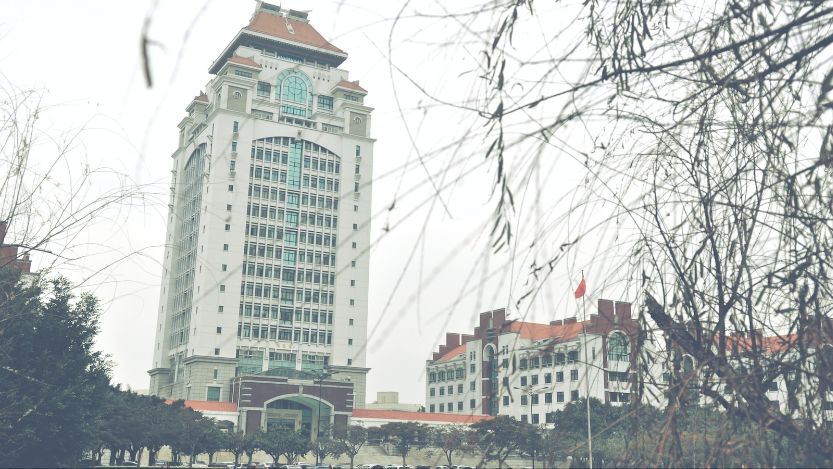 Let's start with English class. It's a bit like a love-hate relationship. Sometimes, I feel like I'm swimming in a sea of confusing grammar rules and tricky vocabulary, but other times, I'm riding high on the waves of understanding and expressing myself fluently. My English teacher is like a magician, always coming up with new tricks to make learning enjoyable. We play games, watch movies, and even have mock debates. It's not just about memorizing words and grammar; it's about using English to connect with the world.
让我们从英语课开始。这有点像爱恨交织的关系。有时,我觉得自己在混乱的语法规则和棘手的词汇的海洋中游泳,但其他时候,我乘着理解和流利表达自己的浪潮。我的英语老师就像一个魔术师,总是想出新的技巧来让学习变得愉快。我们玩游戏,看电影,甚至进行模拟辩论。这不仅仅是记住单词和语法;这是关于使用英语与世界联系。

Moving on to the fun part of school life. Besides the classroom, our school offers a wide range of extracurricular activities. From sports to art, there's something for everyone. I've joined the basketball team and discovered my hidden talent for dribbling and shooting hoops. The adrenaline rush during a match is unbeatable. And let's not forget about the school trips! We've explored museums, gone on nature hikes, and even had a thrilling adventure park visit. School life is never boring when there's always something exciting happening.
继续学习学校生活中有趣的部分。除了课堂,我们学校还提供广泛的课外活动。从体育到艺术,每个人都能找到适合自己的东西。我加入了篮球队,发现了我隐藏的运球和投篮天赋。比赛中肾上腺素激增是无与伦比的。让我们不要忘记学校旅行!我们探索了博物馆,进行了自然远足,甚至参观了惊心动魄的冒险公园。当总有一些令人兴奋的事情发生时,学校生活永远不会无聊。

But what truly makes my school life special are my friends. We stick together like glue, always there to support and cheer each other on. We share secrets, laugh at inside jokes, and create memories that will last a lifetime. Whether it's studying together or simply hanging out during lunch breaks, my friends make even the toughest school days bearable. We're an unstoppable squad, and together, we can conquer anything.
但真正让我的学校生活变得特别的是我的朋友。我们像胶水一样粘在一起,总是在那里互相支持和加油。我们分享秘密,嘲笑内心的笑话,并创造终生难忘的回忆。无论是一起学习还是只是在午休时间闲逛,我的朋友们都让最艰难的上学日变得可以忍受。我们是一支不可阻挡的球队,团结起来,我们可以征服一切。

So, that's a glimpse into my school life. It's a mix of challenges, laughter, and companionship. English class keeps me on my toes, extracurricular activities bring out my passion, and my friends make it all worthwhile. School life may have its ups and downs, but I wouldn't trade it for anything else. It's a journey filled with growth, learning, and unforgettable moments. As they say, school days are the best days of our lives!
所以,这是我学校生活的一瞥。这是挑战、欢笑和陪伴的混合体。英语课让我保持警惕,课外活动激发了我的热情,我的朋友让这一切都变得值得。学校生活可能有起有落,但我不会用它来换取其他任何东西。这是一段充满成长、学习和难忘时刻的旅程。正如他们所说,学生时代是我们一生中最美好的日子!

I hope you enjoyed this little tour of my school life. Until next time!
我希望你喜欢我学校生活的这次小旅行。直到下次!